Winston-Salem Wedding Videography at Forsyth Country Club
The Waterer family has had quite the whirlwind over the past two years, marrying off not one, not two, but three of their children. It is without a doubt the highest compliment that they have chosen to have us be a part of these Winston-Salem weddings.
Capturing This Wedding Was Such a huge privilege and joy.
Going into this day we knew it would be gorgeous, joyous, and full of love, laughter, and emotion. These families continue to stun us with the real, vulnerable feelings they share with one another and all who surround them. As we often tell our couples, our films are magnified in beauty when the families are unafraid to fiercely love and share their hearts with one another. It brings a truthfulness, an honest heir of tenderness that subtly adds a magical ingredient to our wedding videos.
Ease into this wedding day.
Their day began at the always enjoyable Forsyth Country Club. This lovely venue offers a variety of scenery both indoor and outdoor. The staff at this club is hands down some of the finest folks we have worked alongside. They are extremely attentive, ensuring no detail is forgotten, all while putting on a genuine smile to warm hearts.
While the bride and groom got ready, Green Bee Florist was actively working vigilantly to craft the incredible wedding florals seen throughout the club and sanctuary. Jennifer and Jessica are incredibly talented at creating stunning displays of floral art and are always a friendly face to be seen.
"You look like a princess."
After Madelyn slipped into her lovely wedding dress, she gracefully flowed down the checkered hallway of this Winston-Salem club to greet her father. Needless to say, Ron was blown away. His baby girl looked magnificent and this moment of giving away his last daughter became all the more real upon seeing her adorned in white. On a technical note, Jeff felt it would be gorgeous to capture this moment through a pane of glass. Risky, but the shot turned out incredible and being able to see Madelyn's subtle reflection was amazing. Beyond the beautiful visuals, Ron managed to mutter out sweet words of affection to Madelyn. She is his little princess.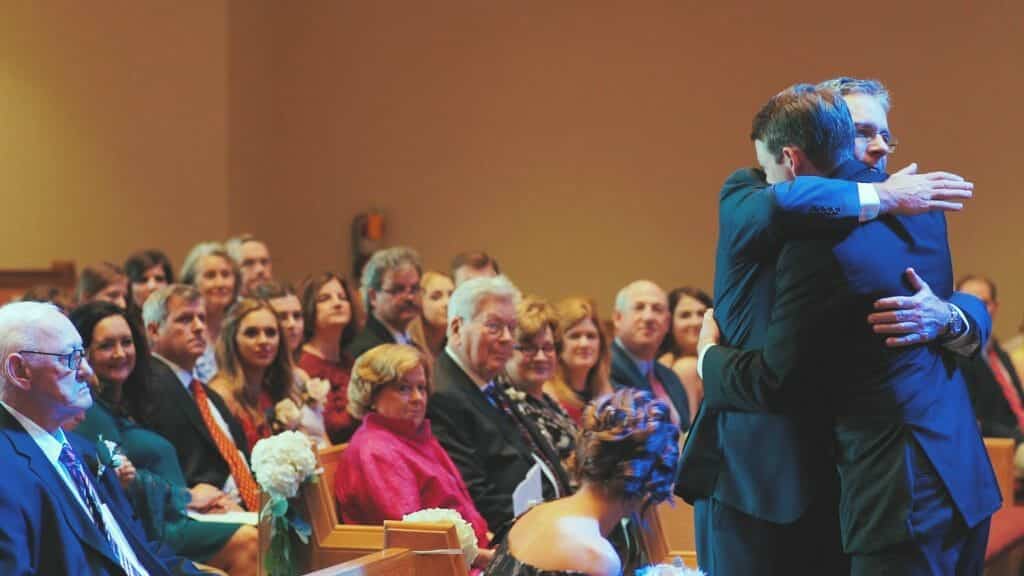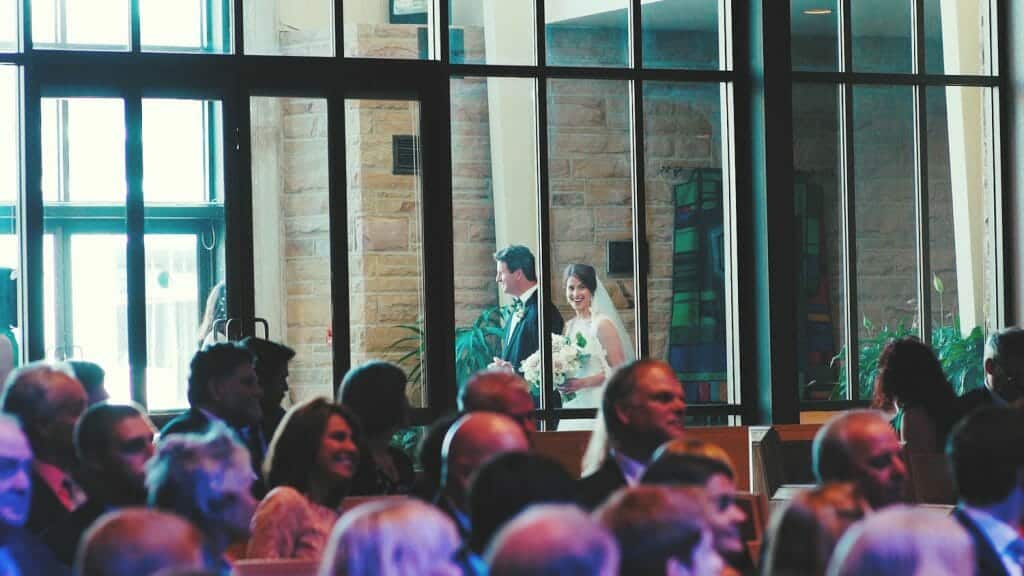 During the ceremony, light shined intensely through the stained glass panels, creating a dramatic, colorful cast of light throughout the church. We enjoy the challenge of working with difficult scenarios and often this harsh light may cause issues, however, we used the uniques to our advantage to create a beautiful spectrum of color cast throughout the film.
With the church being located centrally in downtown Winston-Salem, it allowed us to venture around the city for a bit before heading over to the country club. It was great being able to capture both a cityscape, as well as the open nature of the golf course for Madelyn and Tommy's photo session. Winston-Salem weddings can offer a lot of diverse scenery, so being able to have the best of both worlds really made for great footage.
Dance, mingle and share the love.
Guests had the option to dance to the sweet grooves while the band jammed out or to relax and mingle on the sunset drenched patio. It was a subtle, eased evening. Allowing for families to intertwine in conversation and slip inside to cut the rug. Once the food had been devoured and the cake divvied out, there was only this lovely couple left to share in one final dance to remember the feeling of this moment, right here.
As the sparklers huffed their last flare and the mothers gave their goodbye kisses, we all just stood there, for a moment, not wanting to let this time together end. It has been a joy being a part of this families life. A spread of emotion that has left our lives forever changed for the better. Today, we are thankful.
or share and comment below to show your love.
[TheChamp-FB-Comments num_posts="5"]
Browse other wedding films below to get inspiration or head over to the blog to see tons of entertaining and useful content for planning your wedding day.