Jefferson Landing Wedding in the NC Mountains
Madi and Preston chose to have a small, intimate wedding with a limited guest list. They chose the closest friends and family who held a special place in their hearts to be at their sides. The ceremony was held creek-side on the groom's family farm, a special location that many generations before Preston had said their vows. It was truly special to stand in this very spot and think back to all the memories, lives, and families that began with a few, meaningful words.
More Images From the Farm
Speaking of words, have you heard their vows?
Oh, my goodness, we were totally ugly crying over here over the sweetness poured into every thought and word spoken to one another. As we've said a million times before, handwritten vows are an incredible way to add your own, unique touch to your wedding day.
More Images From the Ceremony
Now, I don't know about you, but as a guest, being at a wedding all day can be a bit tiresome and it's always nice to have a little break here and there before shuffling off to the next event. Luckily for Preston and Madi's guests, they were able to take a small break before the reception to change, get a few minutes of shut eye, or roll another episode of their latest binge show.
And when they arrived at the reception...
Decorations galore. Including a sweet memory table to honor those who came before us, stunning succulents, and a table full of delicious cakes and cupcakes by Ugga Mugga Bakery. The family spent weeks decorating the venue to ensure it was the perfect scene for friends and family to enjoy and create a memorable evening for all.
   Sing us a tune.
I mean, who doesn't love a good Karaoke session? This was definitely a first (and hopefully not last) for us. As you'll soon find out, Madi and Preston are definitely a musical bunch. They rocked the night away singing some of their favorite tunes alongside friends.
Ladies and Gentlemen, Preston!
Preston must have seen this day coming a long, long time ago. Just one week after he and Madi started dating, he began to write a song on his guitar for her. Of course, it took until just before the wedding for him to finish it, but it was a real doozy. Words can't quite do it justice, so you are just going to have to scroll down to the film to see for yourself. Total sweetness.
  Want some more cake?
Every wedding we crack a half smile to the thought of brides and grooms smashing their wedding cake in each other's faces. These two fulfilled our wish in glorious fashion. Madi was the first to strike and the winner in our book. Preston must have spent days picking icing out of his beard.
  Let love grow.
We really enjoyed the long-lasting favors Madi and Preston selected for guests to take home with them. Beautiful potted plants for friends to take home, water, and let grow, just like the love that has and will continue to grow between Madi and Preston.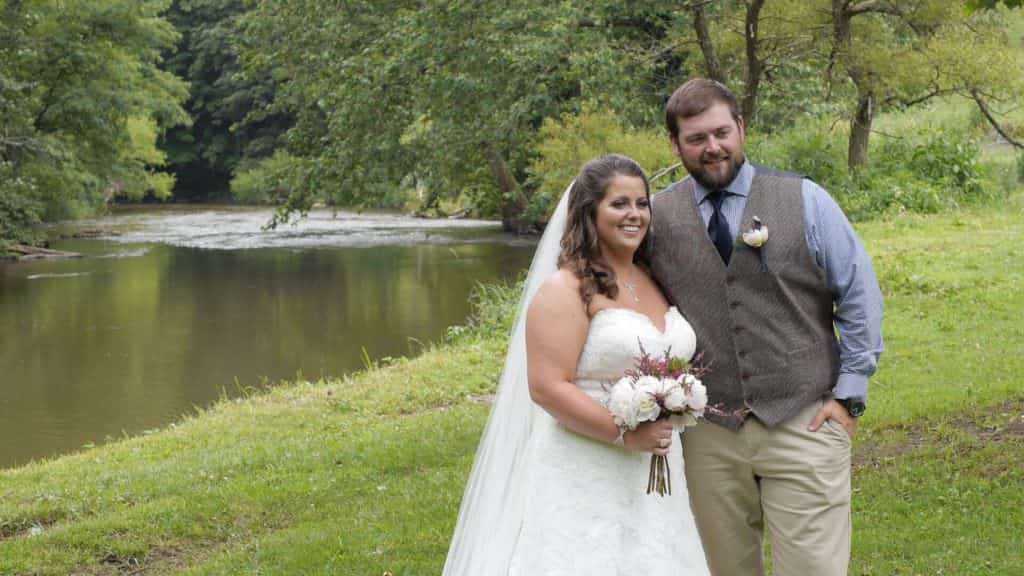 So Madi, Preston, keep on singing and growing. Your day was so beautiful and holds a special sentimental place in all of our hearts. Thanks for sharing your love with us all.
or share and comment below to show your love.
[TheChamp-FB-Comments num_posts="5"]
Browse other wedding films below to get inspiration or head over to the blog to see tons of entertaining and useful content for planning your wedding day.