Bermuda Run Wedding at Winmock
Spending the day filming Christina and Ben's wedding at Winmock was such a joy! Throughout the day these two were a beacon of light on a cloudy day. Their love shined bright and filled this Winston-Salem wedding venue with warmth and excitement.
The day began with the guys and girls getting ready in their respective quarters. The girls enjoyed relaxing, mingling, and sipping a few mimosas. Meanwhile, the guys were able to shoot pool, throw darts, and kick back with a few beers while preparing for the big day. Winmock is a gorgeous old barn and offers endless rustic scenery options to capture stunning photo and video of all the wedding details. Armed with a hanger and a bit of courage, we got the dress beautifully hung up in the middle of the main stairwell. Underneath the stairs is a lovely old green chest that popped perfectly as a backdrop for Christina's deep red heals.
This was our first time being in and capturing a Winston-Salem wedding video inside the Granary at Winmock. It is a cute, rustic space with soaring wooden beams and just enough space to offer room for the entire crowd while still feeling nice and cozy as a new family.
Our favorite part came right after the ceremony as families hugged and shared warm welcomes with one another. Christina hugging her grandparents joyfully was enough to make us tear up. One of the beautiful things about what we do is knowing that we are preserving these amazing micro moments forever.
A magnificent, soaring barn in the heart of Winston-Salem
After hanging out around the property and capturing these two snuggle, cuddle, kiss, and share their love with one another, we headed into the upstairs barn. If you haven't seen this amazing space in person, you are in for a treat. The ceilings soar high up above. The woodwork is truly a breathtaking marvel of craftsmanship. And to top it off the space had been beautifully pieced together with gorgeous florals and decor.
A few of the best parts at their wedding reception: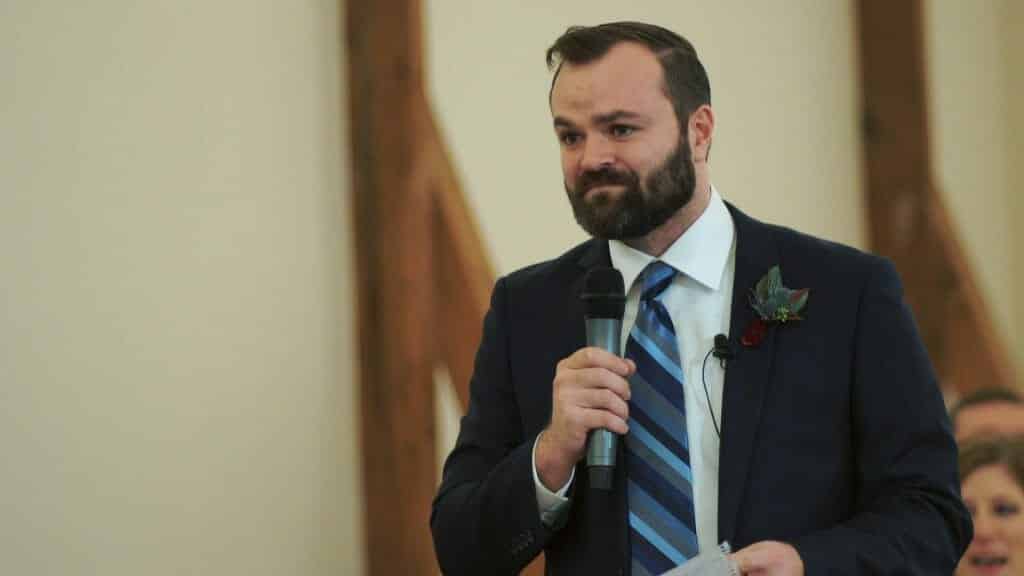 Ben's best man's toast was absolutely perfect in the way that he tied together Ben's love and dedication to his jeep into how Ben will be the perfect, committed partner throughout Christina's life.
The photo booth with an instant polaroid style camera, allowing guests to strike a pose with props and make a fool of themselves. Some of the outfits and groups were hilarious.
The massive amount of energy brought to the dance floor. Seriously, these guys danced endlessly. Every time we turned around we saw yet another great moment happening on the dance floor.
Congrats to the happy couple and thank you so much for allowing us to be a part of your wedding day at the beautiful Winmock Barn!
or share and comment below to show your love.
[TheChamp-FB-Comments num_posts="5"]
Browse other wedding films below to get inspiration or head over to the blog to see tons of entertaining and useful content for planning your wedding day.