Bella Collina Wedding near Greensboro, NC
There's something majestic about relaxing by the water, cool drink in hand, and a cool breeze to keep the summer heat off your face. Couple that decompressing experience with the beauty of a marriage, a sweet couple, and surround them with love, joy, and dancing, lots of dancing. This is but a glimpse into the incredible wedding day of Lauren and Eric at the lovely Bella Collina Mansion out at Belew's Creek near Greensboro, NC.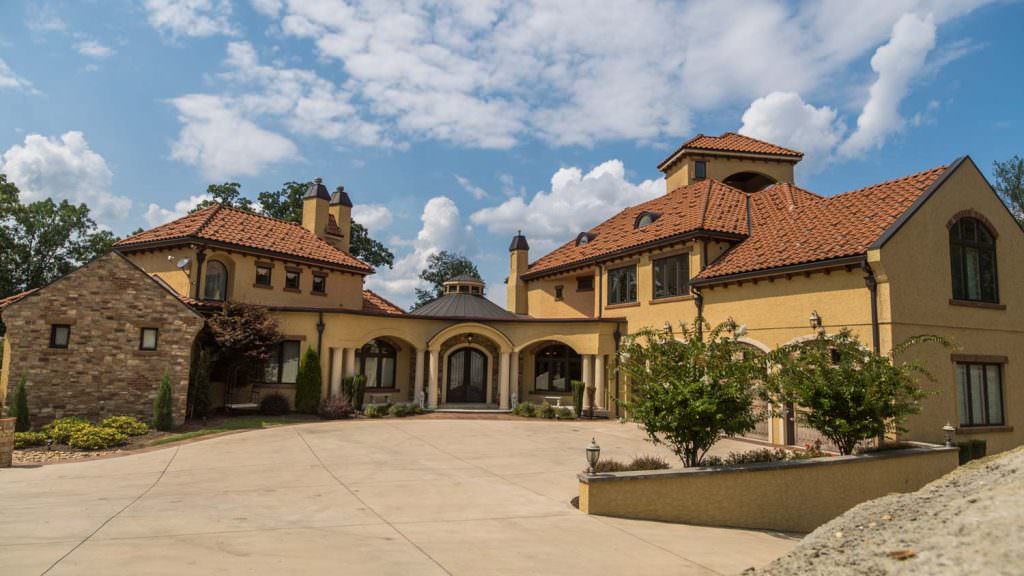 Lauren and Eric are among our ideal couples. Sweet, deeply in love, surrounded by joyful family and friends, and most importantly, thrilled to capture their day on film. When we first met with Lauren and her family, it was obvious that we all were the absolute perfect fit for one another. They would, of course, receive a stunning wedding film, but more importantly, we would be blessed by the ability to experience this emotional day by their side.
When we first arrived at their wedding, we knew our first order of business was to begin capturing a few of our signature timelapses. Lauren is crazy about our timelapses, so we gave it our best and couldn't have been happier with some of the incredible moments, details, and locations we were able to capture with this unique method of filming. While the timelapses were clicking away, Amanda was busy meeting up with the guys to capture their shenanigans, while Jeff ensured the lovely bride and bridesmaid were looking their best on camera.
Sometimes starting the relationship between hair stylist, makeup artist, and the bride can be a bit of an icebreaker, fortunately, the Freedman's had a family friend who rocked at hair/makeup and of course they already had a great relationship. This made the conversation full of laughter and the ability to share memories freely with ease.
Jeff spent most of the early part of the day running from shot to shot. There were seemingly endless details, thoughts, and preparation put into this event, so we always make sure to capture not only the details but the essence of the environment surrounding those details. I'd say we rocked it at capturing both the multitude of detail, as well as, the gorgeous surroundings and thought that went into every picture, vase, letter, and centerpiece.
Speaking of details, did you catch that gorgeous cake! Easy Peasy rocked it with the stunning 3 tier cake and we overhead the owner's chatting about Lauren bringing the cake stand as a personalized bonus to make an already gorgeous cake pop even more in this stunning foyer.
And now for the emotion of the day.
Eric is quite the writer and successfully had the entire bridal party, parent's included, in tears while Lauren read his sweet note of affection out loud for all to hear. But it didn't stop there, the room was full of puddles after the moms read their notes and Lauren shared a few gifts of sentiment with these two special ladies who had made a major impact in leading this couple to where they have landed upon today.
Your daughter, your bride.
We are a huge fan of first looks, so it goes without saying, two first looks are better than one! Lauren wanted to reveal herself to both her father and groom-to-be. First up was dad, Lauren elegantly flowed down the staircase and when her father turned we had to step in and pick his jaw up from the wood floors. She was absolutely stunning and I can only imagine the rush of emotion and feelings Brian had when he saw his baby girl ready to make the next step in her life.
After hugs, kisses, and toodaloos it was off to the lawn where Eric stood, anxiously awaiting his bride. Lauren made her way up behind Eric, a gentle tap on the shoulder, a spin of the heel, and a moment of joy, relief, and passionate tears from the soul. There are times where you want to pause and let a moment unfold to stretch it to its maximum potential. This was, undoubtedly, one of those moments. The Nixons and we couldn't help but freeze in this moment because we knew it was more than a simple exchange of hellos. The energy extends this-worldly understanding and transcends into an agape form of love. What a treat for us as documentarians to have this moment displayed for our hearts to encapture.
Officiant and narrator of the intertwining of two beings.
There are few people I can think of that I would enjoy hearing narrate unfolding moments. Morgan Freeman, David Attenborough, and James Earl Jones come to mind, but I have a strong hankering feeling that John, their officiant is a worthy addition to this list. It's one thing to write poetic words, but the delivery in front of an audience kicks it all to a new level of beauty and meaningfulness.
A brief smooch, cheer of the crowd, and off to dance the night away.
Now, we knew this family was full of love and joy, but we had no idea they were also dancing extraordinaries. Everywhere the camera turned revealed an endless stream of wholehearted dancing passion. These folks knew how to throw it down and have a good time to celebrate the night under a starlit sky. Of course, it helped that Lauren and Eric kicked it off with an enchanting choreographed dance up on the Juliet balcony.
As the night comes to a close, the music fades out, and the sparklers dim to a dull ember, we are left with the shining light and love of two beautiful souls with a path of bright love and joy on the horizon. We are so thankful to have shared in a glimpse of the joining of this new future of events and wish Lauren and Eric all the best.
or share and comment below to show your love.
[TheChamp-FB-Comments num_posts="5"]
Browse other wedding films below to get inspiration or head over to the blog to see tons of entertaining and useful content for planning your wedding day.