As an NC wedding planner, I've found that many brides feel very strongly about whether or not there will be kids at their wedding. This isn't at all a reflection on if they like children; many brides just don't want their adult guests to worry about entertaining their children at the wedding or offending them by saying no.
For adults, weddings are full of entertainment.
There's usually a short-ceremony, an easy 15-30 minutes of focused attention that involves listening and watching. Then there's often a full hour of drinks and snacks while catching up with family and friends you may not have seen in awhile. And the reception generally includes a nice meal and a bit of alcohol to get you up on the dance floor.
Kids experience a wedding with very different eyes.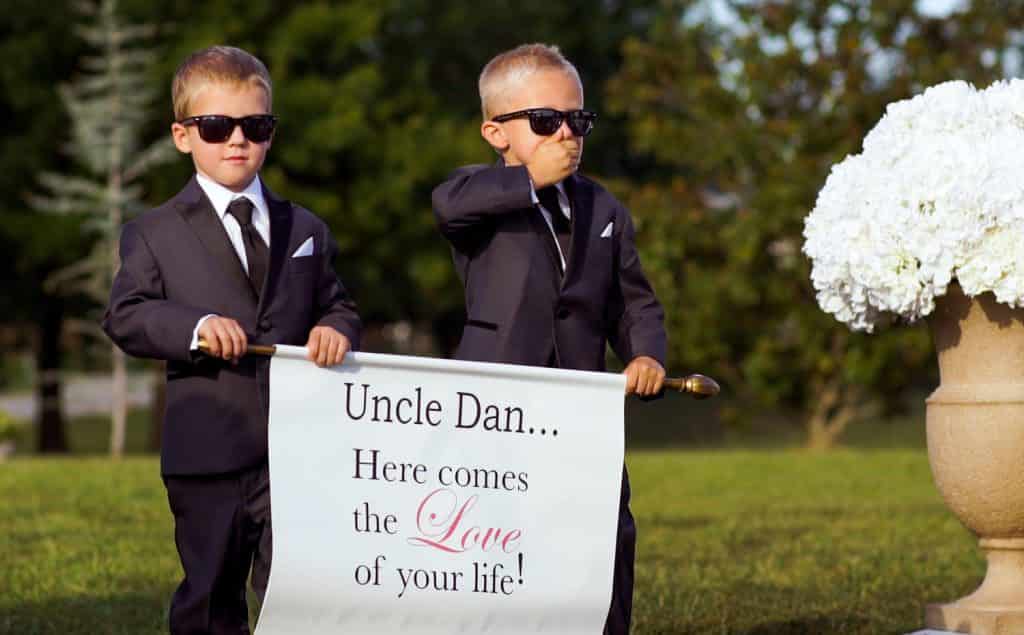 The ceremony feels like an eternity with a long period of time in which they are expected to sit quietly in a chair. That's quite a big task for even the most patient of children. After this mysterious robed man finishes talking, there's cheering and excitement as everyone shuffles from one place to the next. But then things can get boring again. The grown-ups are only interested in talking with the other grown-ups, and the food is fancy, unrecognizable, and you have to eat with your hands (ok they might like that part).
Like rabid wolves, the children sniff out the sugar coated deliciousness of cake. Once it hits their radar it takes every bit of willpower inside to not maul this tower of delight.
"Don't worry, Johnny, you will have some soon enough."
Once the reception kicks into swing, children often light up with excitement as they take over the dance floor, fueled with a sugar high and the attention of adults loving the site of childhood dance moves. But, the night quickly brings on weariness and excitement turns into exhaustion for these little tots.
Of course, you do, and so do we! So, how do you incorporate these little bundles of joy into the day to ensure maximum success and allow their parents more time to celebrate with you?
First up, The Ceremony
Kids Pages.

This could be coloring pages, word searches, some small activity they can do quietly in their laps. You can have ushers hand them out to kids when their parents get their programs or have them placed in seats/pews for flower girls and ring bearers.



A place to get away.

For longer ceremonies, make sure there is a place parents can sneak out to, such as a playroom in churches or an area near the cocktail hour. This will make parents feel comfortable to sneak away should a child get a bit out of hand.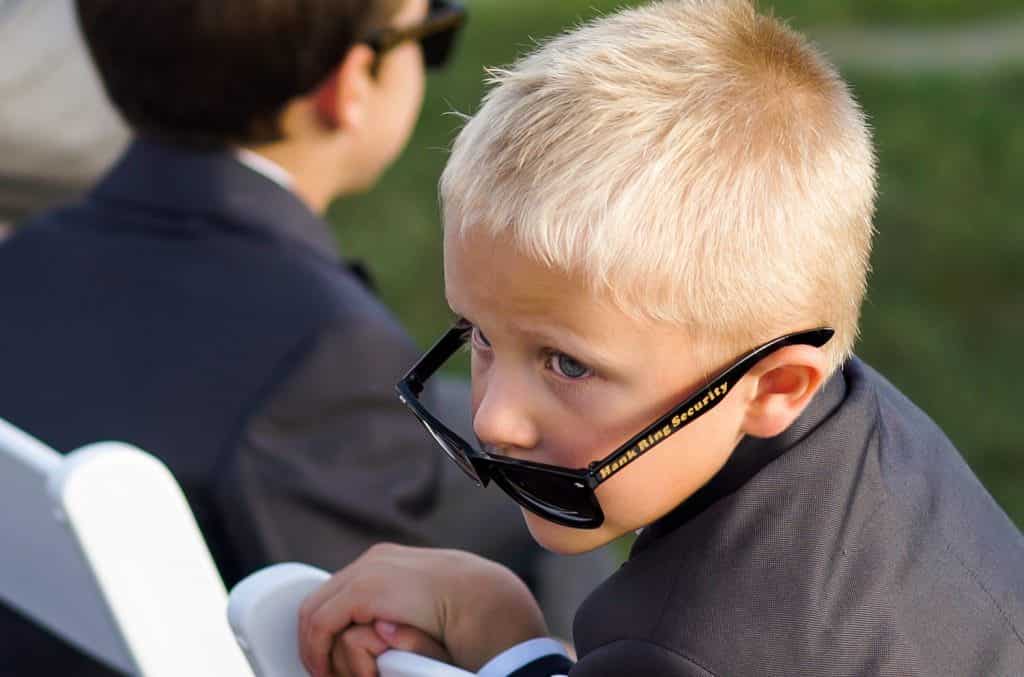 Speaking of Cocktail Hour
A Kid's Table or Play Room/Area.

Having a station set up with coloring books, bubbles, and small games will keep them entertained while parents mix and mingle during cocktail hour. If this part of your celebration is outdoors, kid-friendly lawn games or yard toys would be a great addition.
Pro tip

: These items can be moved to the reception area after dinner for toddlers to enjoy again, or you can split these items into two groups so they are seeing new/fresh playthings after dinner.
Check out this amazing children's teepee at Lauren and Dan's wedding.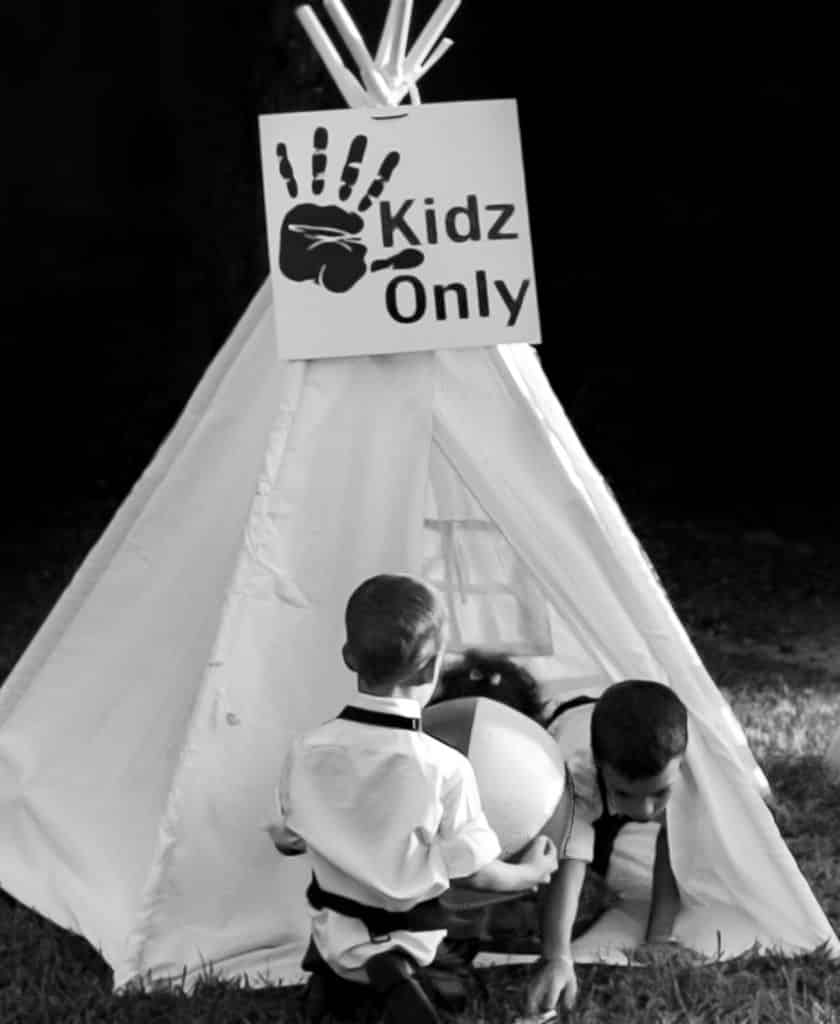 On to the Reception
The dreaded mealtime.

Making sure your caterer is able to provide kids meals is key, especially when you know there will be picky eaters present. Dinner will keep them entertained for a while, but they will likely be done with sitting still long before their parents. A kids table separate from the rest of the guest tables will provide them with space to do their own socializing. Stock it with kid-friendly utensils and cups, and a few small tabletop games or activities. Of course, you'll want someone to keep an eye out here, so either have parents close by or seat babysitters with the kids.
If youngsters will be sitting with their parents, allow them to bring something with them from the cocktail hour or have coloring pages placed at their seats.
A DJ who entertains.

Having a great DJ or MC can ensure tables get served quickly, so the little ones don't have to wait around too long. They can also provide entertainment with interactive table games, so both adults and kids feel included while waiting to get their grub on.



Say cheese.

Photobooths are all the rage right now and it's totally obvious as to why. They provide entertainment throughout the reception and this is a perfect time to let kids do what they do best, act silly and play "dress up" with fun props and flashy backgrounds.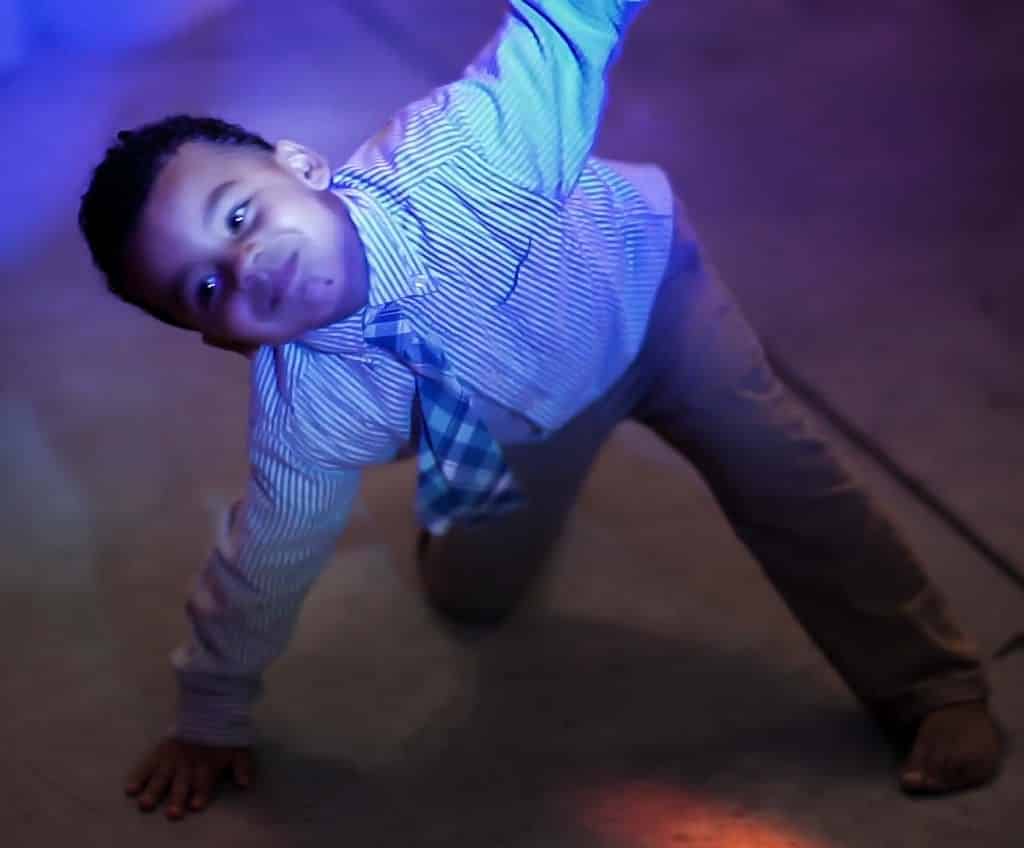 After dinner, it's usually smooth sailing.
Children will finally get the opportunity to smash their face into a slice of cake, thus generating a burst of energy to mop the dance floor with childlike grace. The photobooth will likely stay open throughout most of the evening, allowing for continued fun and your DJ/MC will likely continue to provide entertainment via music, bouquet/garter tosses, and various interjections of fun.
Babysitters, the key to a great time for all.
Having a babysitter or two present will allow guests who are bringing children to enjoy themselves without needing to keep a close watch. If it is just family or bridal party members bringing kids, you might consider covering this cost yourself as a gift to the parents. You'll want to make sure you know exactly how many kids are coming so you can tell the sitter what to expect and hire additional nannies as needed.
Hopefully, these tips are helpful as you make plans to have kids at your wedding! Of course, whether your guests will want to bring their children or not is an entirely different story.
Emily Thomas - Emily Katherine Events
Emily Katherine Events is a North Carolina event planning company offering a range of planning services for weddings, parties and reunions.
[TheChamp-FB-Comments num_posts="5"]